Aims and Scope
Madimetja Nyaloko, Welma Lubbe, Karin Minnie
---
Background:
Mothers experience significant barriers to breastfeed in public spaces, which could result in a detrimental impact on the World Health Organization's recommendation of exclusive breastfeeding. Failure to support and accept breastfeeding in public spaces could lead to mixed feeding or even abandonment of breastfeeding.
Objective:
The current study aimed to identify the knowledge of breastfeeding benefits and perceptions about it among mothers and community members in Alexandra, Gauteng Province, South Africa.
Methods:
A quantitative, non-experimental descriptive study was deployed using two structured questionnaires, which were distributed among mothers (n=96) and community members (n=96). All 192 questionnaires were completed and returned, although two questionnaires of mothers could not be used due to incompleteness. An excel spread sheet and Statistical Package for Social Sciences version 25 was used to analyze the data.
Results:
The findings of the current study revealed a positive correlation between the knowledge level about breastfeeding benefits [infants (r=0.45, p≤0.000) and mothers (r=0.29, p≤0.000)] and perceptions in public spaces. Community members and mothers who were knowledgeable regarding breastfeeding benefits exhibited supportive attitudes towards breastfeeding in public spaces.
Conclusion:
Altogether, the majority of mothers (69%) were comfortable to breastfeed in public spaces, and community members (84%) were supportive. Limited knowledge of breastfeeding benefits was associated with unsupportive attitudes towards breastfeeding in public spaces. Health messages that target these factors are essential to encourage support and acceptance of breastfeeding in public spaces. This could be executed through public education via posters in public spaces and during community health outreaches.
---
October 26, 2020
Hyo Jung Oh, Donng Min Yang, Chong Hyuck Kim, Jae Gyu Jeon, Nam Hyung Jung, Chan Young Kim, Jürgen Symanzik, Hyo Won Oh, Akugizibwe Edwin, Seong Il, Jeong Yong Ahn
---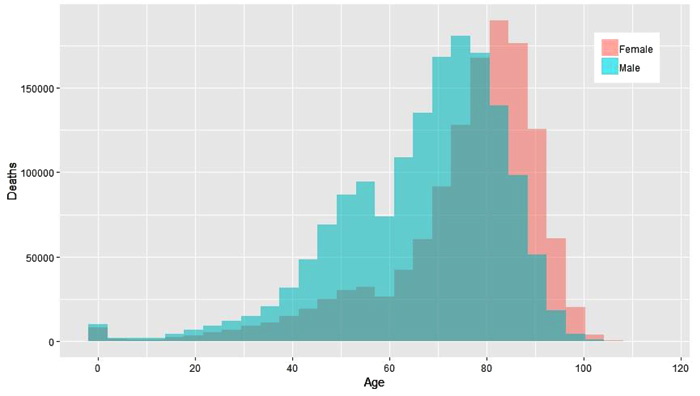 Background:
The trends and patterns of the mortality rates for causes of death are meaningful information. They can provide a basis for national demographic and health care policies by identifying the number, causes, and geographical distribution of deaths.
Objective:
To explore and analyze the characteristics of the mortality rates for major causes of death in Korea.
Methods:
Some common data analysis methods were used to describe the data. We also used some visualization techniques such as heat maps and line plots to present mortality rates by gender, age, and year.
Results:
Our analysis shows the crude mortality rates have continually decreased over the last 25 years from 1983, though they have increased slightly since 2006. In addition, the top eight causes of death accounted for 80% of all Korean deaths in 2015. During the period 2005-2015, the leading cause of death was cancer in male and circulatory diseases in female. The trend for respiratory diseases shows a steep upward trend in males, while a similar trend can be observed for respiratory and nervous system diseases in females.
Conclusion:
The deaths for circulatory, respiratory, nervous system, digestive, and infectious diseases are the highest in the age 80 to 84, while cancer is the leading cause of death for ages 75 to 79. In addition, the mortality rates for circulatory, nervous, and respiratory diseases increase rapidly after the age of 80. Therefore, policies on health and welfare for the elderly are getting more and more important.
---
January 28, 2019