Aims and Scope
Rishabha Malviya, Akanksha Sharma, Ramji Gupta, Rajendra Awasthi
---
A total of 219 countries, areas, or territories have globally witnessed the existence of a novel Coronavirus (COVID-19) pandemic over the last few months, which posed serious threats to human health. The viral incubation period varies from 2 to 14 days. It has been observed that osteoporosis patients are likely to be at high risk of COVID-19 contracting sequelae. Osteoporosis is a chronic condition that reduces bone strength and increases the risk of fracture. Osteoporosis typically requires sustained therapeutic intervention to reduce the risks of further bone loss, structural integrity impairment and incidence of fractures. In the COVID-19 pandemic, diagnosis of chronic osteoporosis conditions should not become an unwanted casualty. Metabolic bone condition may lead to complications in COVID-19 infected patients. Orthopaedic doctors are being redeployed in different hospitals to treat COVID-19 infected patients. Thus, the orthopaedics community needs compulsory training to understand the symptoms of this condition. Orthopaedics surgery and trauma surgery are challenging in a hospital setup with limited availability of hospital staff and operating facilities. Clinicians must respond to the challenges raised by this crisis and consider ways of continuing to help patients with chronic diseases with their substantive morbidity and mortality.
---
December 31, 2020
Hyo Jung Oh, Donng Min Yang, Chong Hyuck Kim, Jae Gyu Jeon, Nam Hyung Jung, Chan Young Kim, Jürgen Symanzik, Hyo Won Oh, Akugizibwe Edwin, Seong Il, Jeong Yong Ahn
---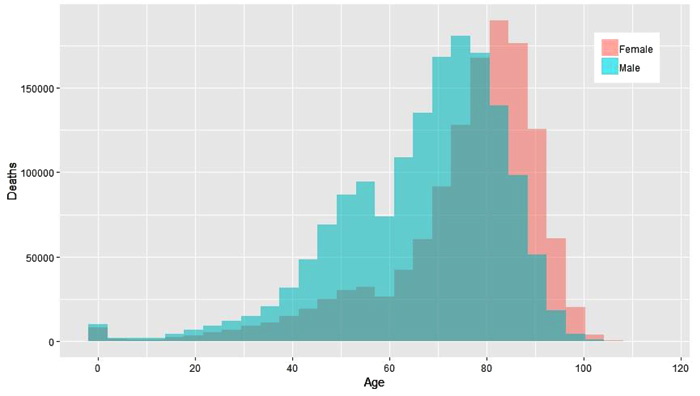 Background:
The trends and patterns of the mortality rates for causes of death are meaningful information. They can provide a basis for national demographic and health care policies by identifying the number, causes, and geographical distribution of deaths.
Objective:
To explore and analyze the characteristics of the mortality rates for major causes of death in Korea.
Methods:
Some common data analysis methods were used to describe the data. We also used some visualization techniques such as heat maps and line plots to present mortality rates by gender, age, and year.
Results:
Our analysis shows the crude mortality rates have continually decreased over the last 25 years from 1983, though they have increased slightly since 2006. In addition, the top eight causes of death accounted for 80% of all Korean deaths in 2015. During the period 2005-2015, the leading cause of death was cancer in male and circulatory diseases in female. The trend for respiratory diseases shows a steep upward trend in males, while a similar trend can be observed for respiratory and nervous system diseases in females.
Conclusion:
The deaths for circulatory, respiratory, nervous system, digestive, and infectious diseases are the highest in the age 80 to 84, while cancer is the leading cause of death for ages 75 to 79. In addition, the mortality rates for circulatory, nervous, and respiratory diseases increase rapidly after the age of 80. Therefore, policies on health and welfare for the elderly are getting more and more important.
---
January 28, 2019