Aims and Scope
Tinotenda Murwira Success, Khoza Lunic Base, Jabu Tsakani Mabunda, Sonto Maria Maputle, Mamotema M. Peta
---
Background:
Although there is evidence that education is a social weapon in the fight against HIV/AIDS, there is also evidence that, to date, HIV/AIDS is not fully integrated into all the disciplines in Higher Education Institutions (HEIs). Therefore, most of the university students in South Africa are not well prepared to be HIV/AIDS-competent graduates who can live and work in a society ravaged by AIDS.
Objective:
This study sought to analyse the extent of HIV/AIDS integration into the curricula in various departments at a selected university in the Limpopo Province, South Africa.
Materials and Methods:
The study used quantitative and qualitative approaches to analyse the extent of HIV/AIDS integration into the curricula. The curriculum calendars were retrieved from the university website. An audit tool guided retrieval of HIV/AIDS content and was analysed using SPSS V 25. The qualitative content analysis was used to describe the nature of HIV/AIDS content.
Results:
Out of eight schools, about 68 modules had HIV/AIDS content. The majority of the modules (53; 78%) were offered at the undergraduate level. Furthermore, the majority of the HIV/AIDS content (62; 91%) was integrated into undergraduate compulsory modules. Most (34; 51%) of the HIV/AIDS content were located in health sciences disciplines. HIV/AIDS content was mostly integrated into existing carrier modules. Time allocation for the teaching of HIV/AIDS was not indicated. Most of the modules did have information about teaching and assessment strategies.
Conclusion:
It is recommended that discipline-specific HIV/AIDS content be integrated into all disciplines.
---
November 25, 2020
Hyo Jung Oh, Donng Min Yang, Chong Hyuck Kim, Jae Gyu Jeon, Nam Hyung Jung, Chan Young Kim, Jürgen Symanzik, Hyo Won Oh, Akugizibwe Edwin, Seong Il, Jeong Yong Ahn
---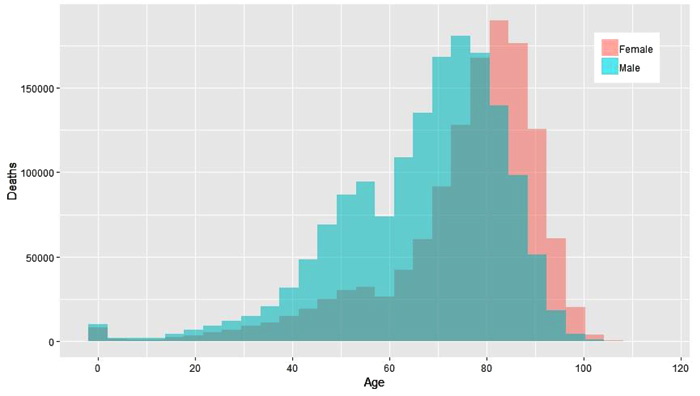 Background:
The trends and patterns of the mortality rates for causes of death are meaningful information. They can provide a basis for national demographic and health care policies by identifying the number, causes, and geographical distribution of deaths.
Objective:
To explore and analyze the characteristics of the mortality rates for major causes of death in Korea.
Methods:
Some common data analysis methods were used to describe the data. We also used some visualization techniques such as heat maps and line plots to present mortality rates by gender, age, and year.
Results:
Our analysis shows the crude mortality rates have continually decreased over the last 25 years from 1983, though they have increased slightly since 2006. In addition, the top eight causes of death accounted for 80% of all Korean deaths in 2015. During the period 2005-2015, the leading cause of death was cancer in male and circulatory diseases in female. The trend for respiratory diseases shows a steep upward trend in males, while a similar trend can be observed for respiratory and nervous system diseases in females.
Conclusion:
The deaths for circulatory, respiratory, nervous system, digestive, and infectious diseases are the highest in the age 80 to 84, while cancer is the leading cause of death for ages 75 to 79. In addition, the mortality rates for circulatory, nervous, and respiratory diseases increase rapidly after the age of 80. Therefore, policies on health and welfare for the elderly are getting more and more important.
---
January 28, 2019