Aims and Scope
Ndatenda Shamiso Mutaurwa, Ellen Munemo, Garikai Malunga, Danai Tavonga Zhou
---

Background:
Typhoid is a life-threatening infectious disease requiring the administration of antibiotics for treatment. Ciprofloxacin is the antibiotic of choice for diarrheal cases in Zimbabwe, adopted by the Ministry of Health and Child Care, from current World Health Organisation (WHO) guidelines. However, there has been an increase in the emergence and spread of multidrug resistance against ciprofloxacin and conventional drugs antibiotics for the treatment of typhoid.
Objective:
This cross-sectional study aimed to determine the prevalence of ciprofloxacin-resistant Salmonella Typhi (S. Typhi) isolated in Harare for the first quarter of 2016.
Methods:
This study was carried out at the National Microbiology Reference Laboratory (NMRL), located at Harare Central Hospital, in Zimbabwe. The NMRL carries out confirmatory tests and molecular typing of pathogens isolated at different national laboratories. The current study retrieved demographics, clinical data, and isolates for confirmed typhoid cases out of 402 suspected specimens. The isolates from Harare, confirmed as S. Typhi, between January and April 2016, were evaluated for ciprofloxacin resistance.
Results:
A total of 35 S. Typhi isolates were recovered for the period from January to April 2016. When the 35 isolates were characterised, nine (25.7%) were resistant to ciprofloxacin. The area with the highest recorded cases of typhoid fever was Budiriro High-Density Suburb in Harare. This area has been hit by other diarrheal outbreaks in the past, most likely due to the intermittent supply of safe water.
Conclusion:
Most high-density areas, where S. Typhi positive specimens originated, are overpopulated and have regular water cuts, resulting in a decrease in hygiene. More than a quarter of isolates are resistant to ciprofloxacin, agreeing with other reports from Zimbabwe. The misuse of antibiotics could be associated with resistance, necessitating education on the correct use of antibiotics in the community and other preventive measures. Additionally, molecular research on geographic and phylogenetic relatedness of isolates and other holistic approaches for studying the development of antimicrobial resistance mutations, using whole-genome sequencing, in this setting, are warranted.
---
February 18, 2020
Hyo Jung Oh, Donng Min Yang, Chong Hyuck Kim, Jae Gyu Jeon, Nam Hyung Jung, Chan Young Kim, Jürgen Symanzik, Hyo Won Oh, Akugizibwe Edwin, Seong Il, Jeong Yong Ahn
---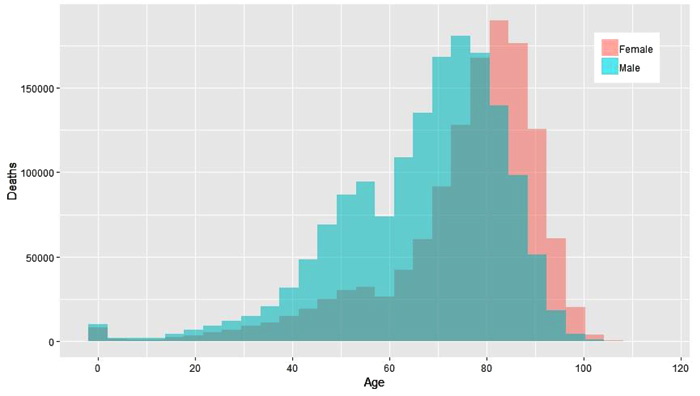 Background:
The trends and patterns of the mortality rates for causes of death are meaningful information. They can provide a basis for national demographic and health care policies by identifying the number, causes, and geographical distribution of deaths.
Objective:
To explore and analyze the characteristics of the mortality rates for major causes of death in Korea.
Methods:
Some common data analysis methods were used to describe the data. We also used some visualization techniques such as heat maps and line plots to present mortality rates by gender, age, and year.
Results:
Our analysis shows the crude mortality rates have continually decreased over the last 25 years from 1983, though they have increased slightly since 2006. In addition, the top eight causes of death accounted for 80% of all Korean deaths in 2015. During the period 2005-2015, the leading cause of death was cancer in male and circulatory diseases in female. The trend for respiratory diseases shows a steep upward trend in males, while a similar trend can be observed for respiratory and nervous system diseases in females.
Conclusion:
The deaths for circulatory, respiratory, nervous system, digestive, and infectious diseases are the highest in the age 80 to 84, while cancer is the leading cause of death for ages 75 to 79. In addition, the mortality rates for circulatory, nervous, and respiratory diseases increase rapidly after the age of 80. Therefore, policies on health and welfare for the elderly are getting more and more important.
---
January 28, 2019