Aims and Scope
Ali Heshmati, Amir Sasan Mozaffari Mozaffari Nejad, Tayebeh Ghyasvand
---
Background:
Aflatoxin M1 (AFM1) is a hepatocarcinogenic and hydroxylated metabolite of aflatoxin B1, detected in milk and milk products.
Objectives:
The aim of our research was to determine the incidence and risk assessment of AFM1 through the consumption of yoghurt in Hamadan province of Iran.
Methods:
Fifty yoghurt samples were gathered from various areas of Hamadan province, Iran and tested for AFM1 by ELISA technique. The estimated daily intake (EDI) and the liver cancer incidence of aflatoxin M1 were determined.
Results:
AFM1 was detected in 43 (86%) samples, (mean: 28.56 ng/kg; range: <5-98.65 ng/kg). The level of AFM1 in 9 (18%) samples was above the maximum tolerance limit (50 ng/kg). The AFM1 intake through yoghurt consumption in various population groups ranged from 0.016 to 0.032 ng/kg bw/day in mean consumers and 0.019 to 0.046 ng/kg bw/day in high consumers.
Conclusion:
The AFM1 intake through yoghurt contributed a slight part from the overall incidence of liver cancer in the Iranian population. From the findings of the current study, it can be derived that although the high percentage of yoghurt samples in Iran proved to be contaminated with AFM1 contents, did not show a public health concern considering the European Commission (EC) and the Institute of Standards and Industrial Research of Iran (ISIRI) maximum limits.
---
September 22, 2020
Hyo Jung Oh, Donng Min Yang, Chong Hyuck Kim, Jae Gyu Jeon, Nam Hyung Jung, Chan Young Kim, Jürgen Symanzik, Hyo Won Oh, Akugizibwe Edwin, Seong Il, Jeong Yong Ahn
---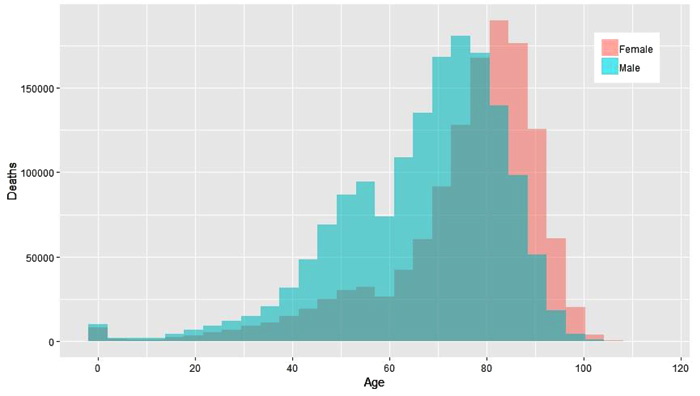 Background:
The trends and patterns of the mortality rates for causes of death are meaningful information. They can provide a basis for national demographic and health care policies by identifying the number, causes, and geographical distribution of deaths.
Objective:
To explore and analyze the characteristics of the mortality rates for major causes of death in Korea.
Methods:
Some common data analysis methods were used to describe the data. We also used some visualization techniques such as heat maps and line plots to present mortality rates by gender, age, and year.
Results:
Our analysis shows the crude mortality rates have continually decreased over the last 25 years from 1983, though they have increased slightly since 2006. In addition, the top eight causes of death accounted for 80% of all Korean deaths in 2015. During the period 2005-2015, the leading cause of death was cancer in male and circulatory diseases in female. The trend for respiratory diseases shows a steep upward trend in males, while a similar trend can be observed for respiratory and nervous system diseases in females.
Conclusion:
The deaths for circulatory, respiratory, nervous system, digestive, and infectious diseases are the highest in the age 80 to 84, while cancer is the leading cause of death for ages 75 to 79. In addition, the mortality rates for circulatory, nervous, and respiratory diseases increase rapidly after the age of 80. Therefore, policies on health and welfare for the elderly are getting more and more important.
---
January 28, 2019